Blog Hotel Palmanova
The weather in Mallorca in autumn, Ca's Saboners Beach Aparthotel
The weather in Mallorca in autumn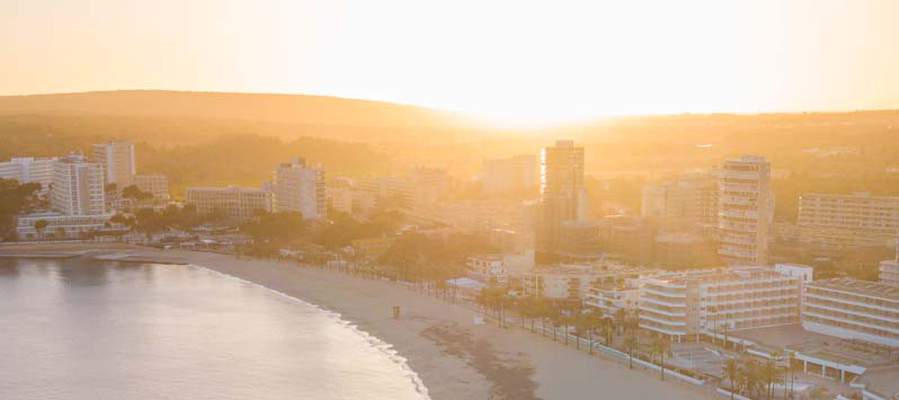 As far as autumn holiday destinations go, Mallorca is right up there. There's a lot to love about the season of abundance, harmony and plenty. For one, the weather is great. Think sunny skies and moderate temperatures (mid 20's during the day) that allow you to go out and explore the island at your own leisure, rather than hide away from the midday sun in an airconditioned room.


Of course there's the odd rainshower, but that only adds to the magic of the season - especially when you're sitting on one of Cas Saboners's cozy terraces or balconies with a good book in hand! Take a look at our rooms to see what we're talking about. Autumn also calls to all cycling fans and outdoor lovers.


As a SILVER Cycling Friendly certified hotel, with designated bike storage, tool workshop, physiotherapy service and much more, Cas Saboners has become a go-to location for two-wheel enthusiasts. Popular routes near the hotel include the ride Galilea-Es Grau-Claret-Sa Creu.


Click here to discover more about our fantastic cycling services. The moderate temp is also great for families with younger children, who wish to enjoy the world-class beaches around Palmanova, such as Playa Son Matias, Playa de Palmanova and Playa Es Carregador. With the summer crowds dispersed, the beaches are calmer and arguably more enjoyable.


Ever felt like learning how to paddleboard, or hone your sandcastle building skills without the pressure of every watchful eye on you? We get it! And of course, we can't not mention the many fun events happening in the months of October and November. For families with kids, there's the Pirates Halloween in Magaluf, only a stones-throw away from Cas Saboners.


Come November, adults can enjoy the Jazz Voyeur Festival in Palma, which showcases the crème-de-la-crème of jazz, blues, soul and gospel. Calling to all foodies out there, you cannot - and we mean cannot - miss the TaPalma Tapas Festival in the capital. It's an incredible culinary experience that will leave you dreaming of Padron Peppers and Sangria forever.

Sounds good? Book your autumn stay now at Cas Saboners and discover a world of autumn fun, action and relaxation.
Return