Blog Hotel Palmanova
Water sports in Palmanova and Magaluf, Ca's Saboners Beach Aparthotel
Water sports in Palmanova and Magaluf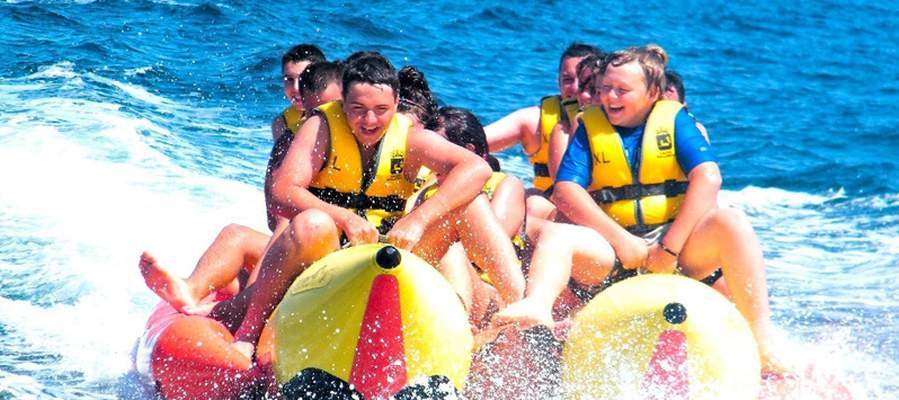 You already know that when staying at Cas Saboners you will have a lot of fun activities on the program. We love to take good care of our guests, adults or children, the fun is ALWAYS on!


And in case you didn't know, we're located in a wonderful resort by the beach. There is the beach of Magaluf and the one of Son Matias in Palmanova. Not only will you be able to spend a day by the beach, but you can also enjoy all kinds of water sports.


You could, for example, pick up a banana boat for a ride! Join a session with your friends or family, and perhaps a few other holidaymakers, to jump on the banana that is trailed behind a small speed boat that will take you around the bay. It can go pretty fast so make sure you hold on tight! They might sneakily take a sharp turn and try to make you fall off. This is good fun for everyone!


Next to the banana boats, you also have the choice of the "Fly-Bus", which is what looks like a floating mattress! Two or three of you can fit on this per session. It also goes quite fast, so much so that you could end up flying in the air for a moment! Lots of laughs for you and your friends as you see each other holding on as hard as you can.


You can also rent a pedalo directly from the beach, to take out to sea to sunbathe, swim and also get some exercise done! You can even choose the one with the slide that runs off the back which can be good fun for the whole family. You can pedal your way across to the island in the middle of Magaluf bay where you can even jump off and have a good swim, see Magaluf from a different perspective!


Lastly, but definitely not least, there is parasailing. A great way to discover Magaluf by air. Trailed along by a small motorboat once again, but this time you and a partner elevate out of the water and end up high enough to see over the whole of Magaluf and Palma Nova. Such a fantastic experience to remember of your holiday.

Return