Blog Hotel Palmanova
Water parks in Mallorca, Ca's Saboners Beach Aparthotel
Water parks in Mallorca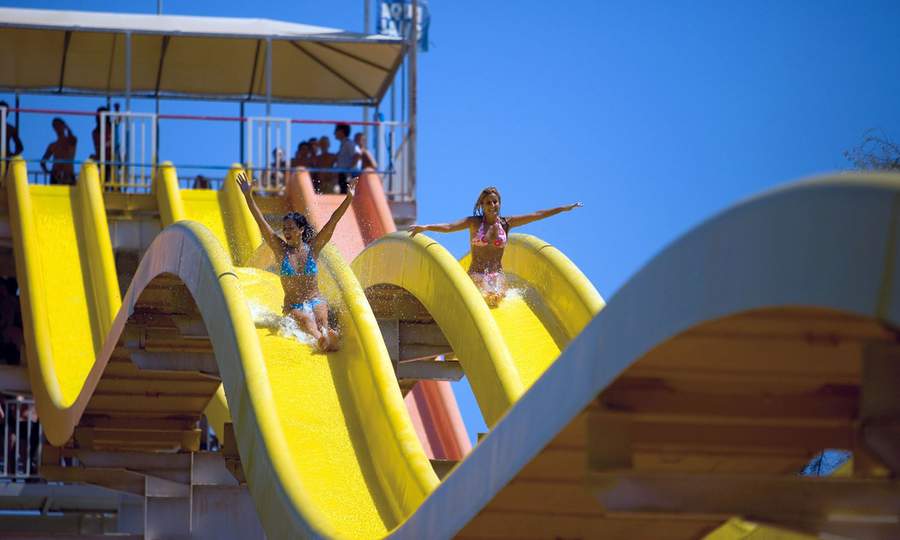 If you are visiting Mallorca during warm spring, summer and even autumn months, you will for sure enjoy the sun as its hottest. One of the things we love most about Summer holidays is the fact that we can sit back, relax and have the kids jump into the water in the pool or at the beach and spend a whole afternoon just swimming and soaking up the Mediterranean sun.


If you would like to take the water-fun to a whole new level, we recommend you togo visit a water park. This will mean fun for the whole family during the day starting at 10.00h and finishing at 18.00h. But where to go? We give you the most fun water parks in Mallorca.


1. Western Water Park

Western Water Park is the water park you will find to be the closest to Aparthotel Ca's Saboners, in Magaluf. Located on Ctra. Cala Figuera to Sa Porrasa, 2 in Magaluf, you will only have to drive 5 minutes from our hotel to get there. From the 22nd of May and until the end of October tons of water fun will be waiting for the whole family to dive in. In May, June, September and October the park opens from 10.00h am to 17.00 pm and during July and August it closes at 18.00 pm. For the ones looking for strong emotions six attractions are catalogued as 'Adrenaline fun'. If you would like to hop on an attraction with the whole family, there are four attractions specially designed to suit all ages. In addition to the fun attractions, you will find the 'Kidzworld' pools and tons of areas such as the chill out & play to be sure to make the most of your day at the water park.


2. Aqualand

Aqualand is located in El Arenal, about 20 minutes away from Aparthotel Ca's Saboners. The exit when taking the highway towards the airport is number 13 and you will find this water park (the biggest in Mallorca) on Autovía Palma km 15. Aqualand opens is doors on the 8th of May every year and is open from 10h to 17h in May, June, September and October and until 18h in July and August. With several different pools with small and medium sizes Aqualand is a kids' paradise divided into Kizworld, Adrenaline fun, Family fun and chill out & play. Its biggest attraction, the King Cobra, will make you scream out loud before falling from a visually impacting slide. One of the attractions for kids we like the most is 'Dragonland', a big pool guarded by a nice dragon and many slides.



If you would like to buy tickets for some of these water parks in Mallorca, approach us at the front desk to get information, special prices and more!

Return