Blog Hotel Palmanova
Sightseeing in Palma, Ca's Saboners Beach Aparthotel
Sightseeing in Palma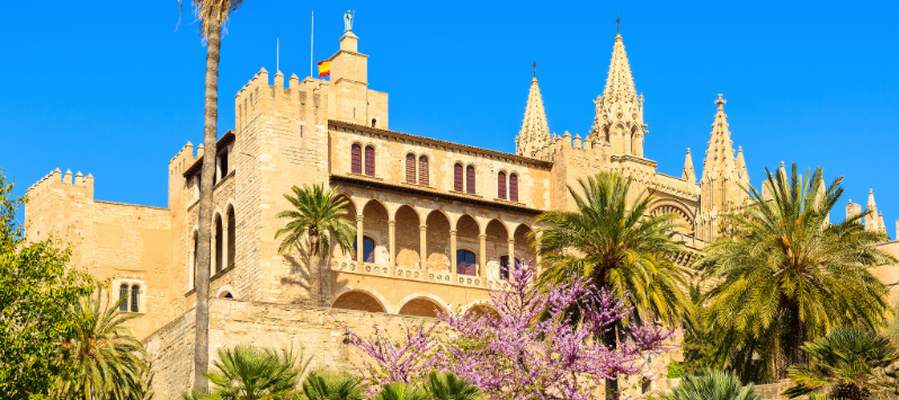 What a stunner you are, Palma. The capital city of the Balearic Islands is one of a kind. With impressive architecture, a breath-taking location by the sea, a superb shopping scene and fun restaurants, cafés and bars to visit, it is one of those cities that you will go back to over and over again.


When staying at Cas Saboners you will be staying a short drive away from this Mediterranean gem called Palma. We definitely recommend you to take a day or two to explore the city.


Sightseeing in Palma – where to go


First things first: the stunning cathedral 'La Seu' and its seafront park 'Parc de la Mar'. 'La Seu', Palma's gothic cathedral was built in 1229, going under several renovations over the next centuries and becoming the beautiful building we know now in the 17th century. The most important reformation was the work of Antonio Gaudí from 1904 to 1915. Known for housing the biggest and most impressive rose window in Europe, La Seu is a must visit. After a visit to La Seu, take some time to enjoy 'Parc de la Mar', the public space in front of the cathedral.


Another highlight next to La Seu is the Royal Palace of La Almudaina, dating back to the 14th century. Some of the treasures inside the palace are its courtyard in honour of courtyard of arms, the Arabic baths and the gothic hall or main hall. Visit Almudaina for free on Wednesdays and Sundays from 15h to 19h.


After those first stops, we recommend you to explore Palma's Old Town and get lost all over its cobbled streets and beautiful buildings. There are plenty of little shops and cafés spread all over the streets around the cathedral, inviting you to dive into the Mediterranean lifestyle at its most authentic form.


While walking the streets of Palma you will run into several modernist buildings that will catch your attention, including works by architects such as Antonio Gaudí, Lluis Domenech or Joan Rubió i Bellver. One of the most representative Modernist constructions is the Gran Hotel, a mature work by Lluís Domenech located in the Plaza Weyler square and today the site of the CaixaForum cultural centre and exhibition venue.


Wrap up a perfect morning in Palma by having lunch either at Paseo Mallorca, a lovely street filled with restaurants and lively terraces or at Paseo Marítimo to enjoy some iconic views over Palma's bay!


We'll be waiting for you back at Cas Saboners to spend the rest of your day by the pool getting pampered by our team!
Return