Blog Hotel Palmanova
Hiking routes near Cas Saboners, Ca's Saboners Beach Aparthotel
Hiking routes near Cas Saboners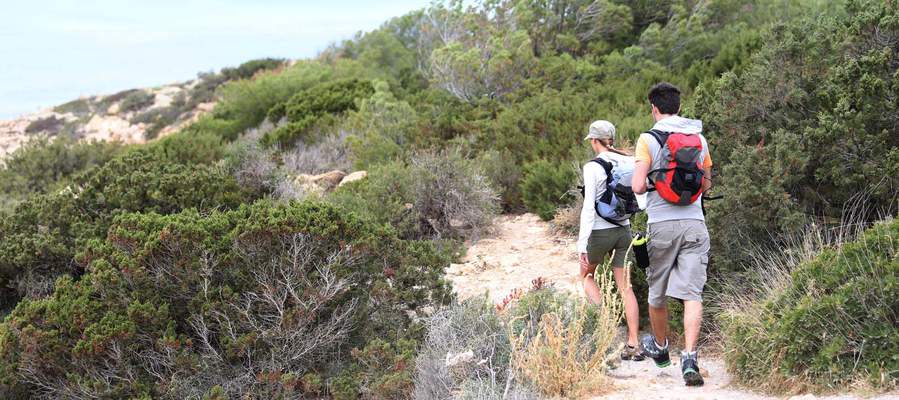 When you picture Mallorca, the first things you think about are the white sand beaches and clear blue waters. But Mallorca is so much more than that. With its mountainous interiors and coastline, expansive green valleys and charming towns, it's the perfect destination for hikers of all levels, from beginner to advanced.


Keep an eye out to see if you can spot some of the many species that have made this island their home, from roaming mountain goats to a diverse array of birds, rabbits and lizards.


So, lace up those hiking boots, throw on your backpack and let us take you on a tour of some of the best hiking routes near Cas Saboners.


Finca Publica de Galatzó


If you're looking for an easy, family friendly hike that takes in spectacular scenery, as well as some interesting archaeological and ethnographic sites along the way, then the walk to Finca Publica de Galatzó is for you. Starting in the Galatzó Public Estate in Es Capdellà, follow the sign for Ses Sínies. You'll find yourself starting off on the drystone path which runs along the Galatzó stream, accompanied by the sounds of nature. Along the way, you'll be able to marvel at some of the agricultural landscapes, as well as ancient archeological sites. In total the hike is about 9km, with 232m of climbing and should take you around 3 hours. Water and suitable footwear are a must.


Camí de l'Arxiduc


If you're looking for the ultimate day hike, then try this 11km loop, which is truly iconic amongst the hiking community. Mapped out by Austrian Archduke Ludwig Salvator in the 19th century, this route allows you to take in some of the island's most dramatic views of the Tramuntana Mountain range. Stop off at the refuge of Talaia Vella for a break.


Cala Fornells to Cap Andritxol


The hike to Cap Andritxol rates high on the epic scale. It's around 7.5km for start to finish, and is classed as an easy route. Start from the Carretera de Cala Fornells, where you can park your car, and wind your way from there along the trail under the watchful eye of pine trees. When you reach to climb to Cap Andritxol, you will be entering a Natural Area of Special Interest.


We look forward to welcoming you to Aparthotel Cas Saboners in March 2023. Book your Mallorcan hiking adventure now!

Return