Blog Hotel Palmanova
Explore Palma de Mallorca, Ca's Saboners Beach Aparthotel
Explore Palma de Mallorca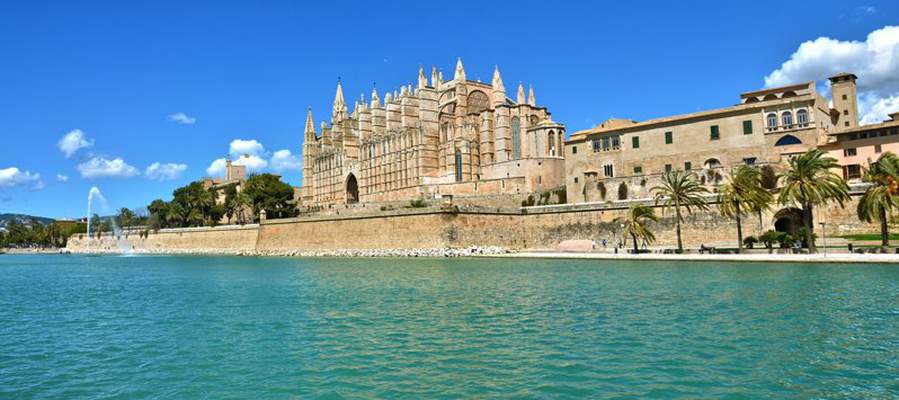 As you probably already know, Aparthotel Cas Saboners is located very conveniently about 25 minutes away from the Majorcan airport in Palmanova. But in addition to being close to the airport and also close to some great beaches (check out our 'best beaches near Cas Saboners' article), Cas Saboners is also pretty close to the capital city of the Balearic Islands, Palma.


If you are renting a car we definitely recommend you to save one day to explore this beautiful city. A 20-minute ride will get you to Palma. As soon as you get there we recommend you park at one of the city center parkings, as you will be close to every stop we recommend:


First stop: La Seu Cathedral. If you have done some research you are probably aware of the world-famous cathedral we are so proud of here in Mallorca. La Seu stands out from its surroundings and truly is a demonstration of the might of Mallorca's Christian conquerors to all who arrived by sea. If you can, please enter, because you will be amazed by how the light pours in through the rose window - one of the world's largest, 12m across and studded with 1,236 pieces of stained glass.


Next stop: Palma's old town. You will quickly see that there is so much more to Palma that you can imagine. When we talk about 'Palma's old town' we are saying you should try and get lost in its little quirky streets filled with galleries, cafes and boutique shops. After visiting the Cathedral you can easily walk towards Passeig des Born, San Jaime and Ramblas.


Third stop: shopping tour Jaime III. When walking on Paseo del Borne in the opposite direction of the sea, you will quickly see that this street, also known as 'the Golden mile' ends at a fountain. Once you get there, just turn left to follow one of the main shopping streets there is in Palma. This street is called 'Jaime III' and one of the things we love about it is that you'll find something for every family member and budget. From expensive boutiques to normal-priced shops Jaime III is where you'll be spending your shopping-trip. If you want to shop some more we recommend you to head to 'San Miguel', a pedestrian street filled with little nice shops.


Last stop: Castell de Bellver. Once you're done with Palma's old town, it's time for one last stop before heading 'home' to Cas Saboners. Take the car out of the parking and put 'Castell de Bellver' into your GPS. It is awell-preserved 14th-century royal fortress with fragrant pine woods, an interesting museum and superb views over Palma Bay that has been standing for over 700 years. Begun by Jaume II in 1300 and built by Pere Salva, the architect of the Almudaina Palace, it is unique among Spanish castles in being entirely round.


We know it has been a long day and there is –indeed- much more about Palma you could go discover if you have more time, but for now we think you have had a lovelt impression about the vibrant capital city of the Balearic Islands.
Return